Fort Collins CO Real Estate Agents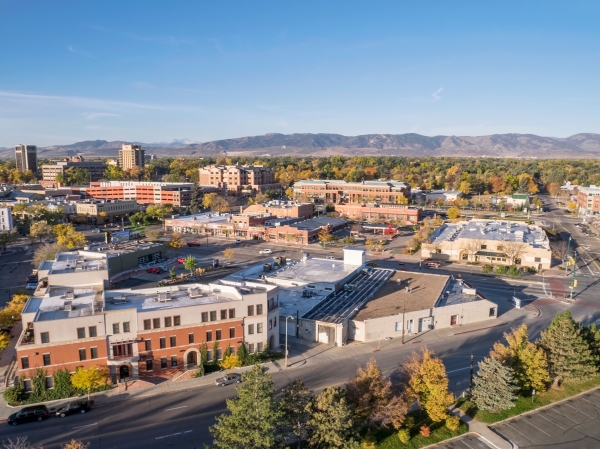 Fort Collins is a midsize college city in Larimer County, some 65 miles north of the Colorado State Capitol in Denver. Home to Colorado State University, Fort Collins is a YOUNG, VIBRANT COMMUNITY whose residents have a median age of 29.3 years. It is Colorado's 4th most densely inhabited city with a population of more than 164,200. Fort Collins was once a military outpost for the United States Army during the 1860s. It was formed when infantry troops from Kansas and Colorado set up camp in what is now the Old Town downtown area. By 1872, Congress opened Fort Collins to settlers as a response to the request of farmers seeking new land. Today, the presence of the university and its renowned research facilities has attracted notable science and technology enterprises into Fort Collins. The city also has strong manufacturing and service industries.
HOMES FOR SALE IN FORT COLLINS CO
Homebuyers have plenty to choose from in Fort Collins. There are affordable options like Fort Collins Townhouses and Apartments for college students and young, first-time owners. Meanwhile, luxury homes in CO also abound in acre-size estates and waterfront homes. Single-family homes in CO come in a wide selection of styles and price ranges, as well. Our Fort Collins realtors specialize in new construction homes for sale in Northern CO including homes under construction or pre-construction and ready to be built. There are plenty of homes for sale in Fort Collins already built as well. Colonials and Victorians showcase traditional and historic-style architecture, while there are also plenty of modern and contemporary properties. Ranch and Craftsman homes are common in Fort Collins neighborhoods, but you can also find an occasional unconventional design like a southwestern pueblo home here. Looking for horse properties in Northern Colorado? Fort Collins is a great area to find homes with acreage for horses and other livestock animals. Real estate investors also turn to Fort Collins for Acreage Properties. On this page, you'll find these helpful sections:
The area has excellent spaces and the ideal conditions to support the ownership and development of horse farms and ranch lands. Explore houses and condos for sale in Fort Collins, CO with Kittle Real Estate. Call 970-460-4444 or 970-325-6444 or drop an email at contact@kittleteam.com.
Browse Homes for Sale in Fort Collins
January 29, 2022
FORT COLLINS CO TOP NEIGHBORHOODS
Fort Collins is a medium sized city located in Northern Colorado. The city is full of professionals, sales and office workers, and service providers. Colorado State University has a big impact on the vibe of the city. The university provides many job opportunities, and the student population keeps the city lively. It's easy to connect with other young professionals and there is lots to do. The unemployment rate in the city is only 2.2% and 81.19% of the workforce is employed in white-collar jobs, a number well above the national average. There are many great neighborhoods in Fort Collins and the median home price is $389,700. Fort Collins Realtors can work with you to understand your budget, what part of town you are looking to live in, the type of house you are looking for, and what's important to you about your neighborhood. With this information, the search for Fort Collins homes for sale can begin.
OLD TOWN
If looking for life near a lively historic district, Old Town is a great choice. Disney's Main Street USA was modeled after downtown Fort Collins. It's a place of shopping, dining, and gathering together along the European style walkways with potted flowers, lights, and water features. Many festivals and events are held here, and the entrepreneurial spirit is alive and well. There are many Old Town homes for sale. Find condos, smaller homes with two bedrooms, mid-size homes, and larger homes with up to five bedrooms. Prices for homes for sale Old Town Fort Collins CO range from $190,000 for small condos to over $1 million for larger homes. Anyone looking for a historic home should consider searching for homes for sale Old Town Fort Collins and realtors Old Town Fort Collins to find a great partner in your home search.
HUNTINGTON HILLS
Homes for sale Old Town Huntington Hills can be difficult to come by. This area is located near S. College Ave. in between Fossil Creek Park and Prairie Dog Meadow Natural area. It's a desirable place to live. Expect typical home values for homes for sale Old Town Huntington Hills CO to be near $472,591. Home values have gone up nearly 5% in the past year and they are expected to rise close to 10% in the next year. Look for top realtors Huntington Hills Fort Collins to help you find Huntington Hills homes for sale if this area seems like a good fit.
OLD PROSPECT
There are usually only a few homes for sale Old Prospect Fort Collins at a time. This is another popular area located east of S. College Ave., south of Old Town, and near Spring Park, Creekside Park, and Mallard's Nest Natural Area. When looking for Old Prospect Homes for sale, expect prices to be near $440,760. These prices have been steadily rising and it's expected that prices will go up another 9.7% in the next year. If you are interested in homes for sale Old Prospect Fort Collins CO, search for realtors Old Prospect Fort Collins and find a professional that can help you find your dream home.
CITY PARK
Homes for sale City Park Fort Collins CO are located just outside of Old Town. Expect to find charming historic homes in this area. The neighborhood is situated around City Park and includes restaurants, bars, and shopping within walking distance. Typical homes for sale City Park Fort Collins will be priced around $596,000. Prices have risen nearly 5% in the past year and are expected to go up 10% in the next year. If you are interested in City Park homes for sale, search for realtors City Park Fort Collins to start the process.
HARMONY CROSSING
If looking for a newer neighborhood, consider homes for sale Harmony Crossing Fort Collins. Homes here were built in the 1990's and the location just west of Timberline Road is close to Cinemark Fort Collins, restaurants, and the Harmony Campus of UC Health. The neighborhood consists of single family homes in a variety of floor plans. A little more affordable, homes for sale Harmony Crossing Fort Collins CO tend to be priced just over $400,000. However, prices have risen 6.8% over the past year and are expected to rise another 10% in the next year. If Harmony Crossing homes for sale seem like a good fit for you, look for top realtors Harmony Crossing Fort Collins to find a partner in your home buying journey.
FORT COLLINS CONDOS FOR SALE
Fort Collins has some beautiful homes for sale, but if you need something smaller and you are looking for condos for sale in Fort Collins our realtors have got you covered. Condos for sale in Northern CO are a hot commodity and sometimes can sell in little to no time at all. If you are looking for condominium townhomes for sale, working with a realtor in Fort Collins will give you an edge over the completion and get you the Colorado condo of your dreams.
TRANSPORTATION IN FORT COLLINS
Fort Collins is divided into these specific neighborhoods:
Downtown
Midtown
South Fort Collins
North Fort Collins
Traveling across these neighborhoods is very easy, thanks to the many different options available. One of the best things about Fort Collins is that it has a big biking community. As a matter of fact, the city has been awarded as a "Bicycle Friendly Town." Because of how well biking is adapted throughout the community, the locals have bike lanes, bike parking, bike share program, bicycle co-op, Tour de Fat, and many more. For those with a car, Downtown Fort Collins has a number of downtown parking garages that are safe and affordable. The city also has a number of street parking areas available. Public transportation includes several route stops throughout the city. There are also buses that operate on compressed natural gas or bio-diesel.
SCHOOLS IN FORT COLLINS
The Colorado State University is situated in Fort Collins, making it a college town. The Poudre School District provides public K-12 education for over 30,000 students in Fort Collins, Laporte, Red Feather, Livermore, Stove Prarie, Timnath, Wellington, and parts of Windsor. The Poudre School District includes:
32 elementary schools
10 middle schools
4 comprehensive high schools
4 alternative high schools
As one of the fastest-growing school districts in Colorado, the Poudre School District is the second-largest employer in the city.
THINGS TO DO IN FORT COLLINS
The city's recreation department maintains more than 60 community parks and athletic fields located just a short distance from the residential neighborhoods. Recreational facilities include a swimming pool, ice skating rink, pottery studio, and a seniors' activity center. One of the best things about Fort Collins is that it offers a number of family-friendly activities and attractions. A visit to THE FARM AT LEE MARTINEZ PARK introduces kids to the farm life by meeting the animals up close. During summer season, the park offers pony rides. Another must-visit attraction for the whole family is FORT FUN. This is a family-friendly amusement place where various activities are available. Among those activities include arcade games, go-karts, mini-golf, paddle boats, laser tag, and many more. The best part is that it is available for all ages. Fort Collins also has an indoor swimming/skating facility known as the EPIC (EDORA POOL AND ICE CENTER). This facility is recognized as the largest swimming pool in the city, which regularly hosts amateur hockey league play and open skating events.
EMPLOYMENT IN FORT COLLINS
Some of the biggest employers in Fort Collins include the following companies:
Agilent Technologies
City of Fort Collins
Colorado State University
Eastman Kodak
Hewlett Packard
Larimer County
Poudre School District
Poudre Valley Health Systems
The city has a growth rate of about 3% every year, with an average median family income of $76,341 per year.
NIGHTLIFE IN FORT COLLINS
Just like plenty of other bustling towns, Fort Collins has an assortment of nightlife spots to visit. This is largely due to its identity as a college town. As a matter of fact, Fort Collins is recognized as the Craft Beer Capital of Colorado. The town is able to produce 70 percent of craft beer throughout Colorado. It ranks 7 percent of the whole United States. There are 20 award-winning craft breweries in Fort Collins. ANHEUSER-BUSCH, one of the most famous and large breweries in the world, can be found in Fort Collins. This popular brewery offers tours to see how Budweiser is made. There is also an option to visit the ODELL BREWING COMPANY, known as the first craft brewery that was established in Fort Collins. The brewery offers tasting room experiences for beer lovers. Apart from breweries, Fort Collins has a number of laid-back pubs where you can connect with friends or listen to live music.
HISTORY OF FORT COLLINS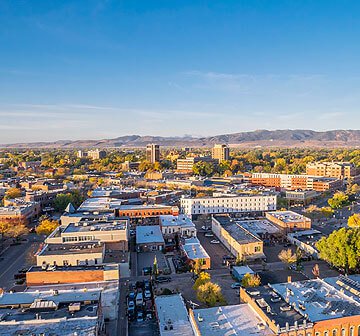 The first Americans who settled in the area were the 9th Kansas Volunteer Cavalry. They established Fort Collins in 1862 near what is now the Old Town area. The Kansas troops were replaced by a group of Colorado infantry who moved to near what is now Wood Street in 1864 after a flood destroyed the camp's original buildings. Fort Collins remained a military outpost until it was abandoned in 1866 by the U.S. Army. It was opened to settlement in 1872 by Congress after many farmers expressed their interest in settling the area. The Agricultural Colony Land Company soon arrived thereafter to layout the first formal boundaries for Fort Collins properties. Growth in the Fort Collins area was fueled during the 20th century by sugar industries, several computer technology industries and steady growth in Colorado State University's enrollment. This growth encouraged the development of several popular neighborhoods including City Park, Waterglen and Rogers Park. Fort Collins CO homes are now situated in a beautiful Larimer County city that offers Fort Collins home buyers many outdoor recreational activities, a diverse economy, a thriving arts scene and safe neighborhoods. These benefits make Fort Collins homes a great value for anyone who wishes to relocate to the Fort Collins area. See more details about the start of real estate in Fort Collins.

RECREATIONAL FACILITIES AND ACTIVITIES IN FORT COLLINS, CO
The FORT COLLINS RECREATION DEPARTMENT offers many 60 recreational facilities that are located near many high-quality Fort Collins homes. Some of these facilities include AN ICE RINK, A SWIMMING POOL, a POTTERY STUDIO, a SENIOR CENTER and a youth activity center. Other recreational facilities include more than 60 athletic fields and community parks. Moreover, the Fort Collins Recreation Department offers many recreational activities that offer home buyers who purchase homes in Fort Collins many ways to learn about hobbies and healthy lifestyle choices. Some of these activities include aquatics classes, ice skating classes, pottery classes, dance lessons, more than 20 recreational sports activities and many youth recreation camps. Interestingly, a couple of marathons take place in Fort Collins every year.
ATTRACTIONS IN FORT COLLINS, CO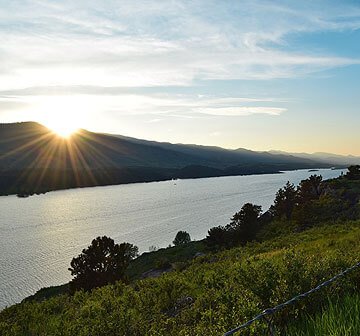 The Fort Collins area is home to many fun attractions that are located near a Fort Collins realtor or real estate agent who can help you find a great home. One of the best places to visit is the OLD TOWN HISTORIC DISTRICT. This area has an array of bookstores, shops, galleries, local eateries, and a calendar full of fun activities. A visit to the FORT COLLINS MUSEUM OF DISCOVERY is also a great way to inspire young kids to have a curious mind. There is also a self-guided historic walking tour of the downtown Fort Collins area. You may also take an old trolley to see the historic spots, such as the famous Victorian home called the AVERY HOUSE. Fort Collins has been nicknamed as a Certified Colorado Creative District due to its innovative and artistic environment. For outdoor activities, this northern Colorado city has a great community that promotes the love for nature. One destination to visit is the LORY STATE PARK, which is the national park of Fort Collins. For a fun summer day, a visit to the HORSETOOTH RESERVOIR is a must for its various activities, such as horseback riding, swimming, boating, fishing, camping, rock climbing, and mountain biking. It also has areas for hiking, off-road driving, and plenty of other outdoor activities. Golfers can also find solace in their favorite sport at the COLLINDALE GOLF COURSE in Fort Collins.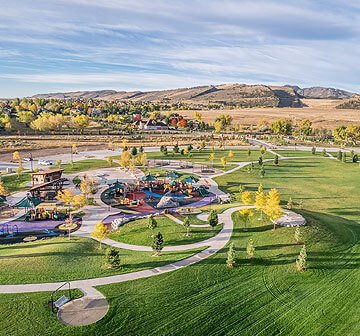 Why You Need a Top Realtor in Fort Collins CO
Whether you're buying or selling a home, real estate transactions are some of the most important – and complicated – you'll ever be a part of. Having a top realtor in Fort Collins CO on your side can help tremendously in navigating the entire process.
Help in Selling a Fort Collins CO Home
When you're selling a home, your primary concern, understandably, is getting top-dollar for it. To that end, it may be tempting to list and sell your home on your own in lieu of using a real estate agent, which is what's referred to as For Sale By Owner, or FSBO. However, FSBO homes typically sell for significantly less than properties listed by real estate agents in Fort Collins CO. In fact, a 2017 study conducted by Collateral Analytics examined price differences between agent-listed homes and those listed as FSBO and found that FSBO homes sold for about 6% less than the properties listed by agents. That 6% almost completely cancels out a commission fee in most cases, plus FSBO listings take substantially longer to sell.
Further, professional real estate agents have superior negotiation skills and a keen eye for detail, both qualities you definitely want working in your favor when you're trying to sell your home for as much money as possible.
Help in Buying a Fort Collins CO Home
Whether you're a first-time homebuyer or you're shopping for your 10th property, having a top realtor in Fort Collins CO in your corner is invaluable. Local real estate agents live, work, and play in Fort Collins and know the community intimately, so they know the best neighborhoods and hidden gems. Based on unique factors including your family size, budget, and lifestyle, your realtor will make appropriate recommendations and steer you in the right direction. Plus, real estate agents know what to look for and may find things that you overlook as you're looking at homes, such as warning signs that there is major damage to a house's roof or foundation.
In much the same way that a real estate agent can help someone sell a home because of his or her negotiation skills and attention to detail, having a realtor on your side can help negotiate purchase contract terms in your favor or catch something that should have been included in the contract but wasn't.
FIND YOUR DREAM HOME FOR SALE IN FORT COLLINS, CO TODAY
With your vacation time coming to an end, it may be difficult to part ways with a town as accommodating and hospitable as Fort Collins. Many others share the same sentiment! Back in March 2017, Fort Collins was named as the 11th Happiest City in America by Yahoo! Finance. This is why there are plenty of people who have opted to relocate to Fort Collins and start a new life in this bustling and young community. Of course, it's hard not to fall in love with Fort Collins. After all, it has received recognition for the following titles:
Best place to live
Best place to raise a family
Best college town for a vacation
Because of the many things offered by Fort Collins, it's easy to see why many love to call this town as their home in Colorado. With its award-winning public school system, major employers, and higher education options, you'll easily fit right in and make a home in Fort Collins. You'll never be bored with all the different activities available in the city, whether it's an adventure-filled weekend, family adventure, or a night out in town. There is always something for everyone waiting in Fort Collins. Check out the available homes and condos for sale in Fort Collins, CO. Call Kittle Real Estate at 970-460-4444 or 970-325-6444 or send an email to contact@kittleteam.com. You'll find your next dream home in Fort Collins.
---
Reviews of Our Fort Collins Real Estate Agents
⭐⭐⭐⭐⭐ "The Kittle team was great in guiding me and assisting me throughout the whole process of buying my first home." -Mauricio Munoz
⭐⭐⭐⭐⭐ "I worked with Kittle Real Estate to sell my condo and buy a house. The team was wonderful to work with. They were super responsive to any questions I had and took initiative update me throughout the whole process." -David Walters
⭐⭐⭐⭐⭐ "So happy with my home buying experience with Kittle Real Estate!" -Chelsea L